Welcome:
Colombo's Italian SteakHouse, featuring Live Entertainment, Full Bar & Catering.
The melting pot of Eagle Rock, we have been serving the community since 1954. Italian American cousine.. Prime Rib, Steak, Chicken, Seafood & Pasta.
Owned and Operated by Ms. Ann Colombo
Enjoy the warmth and pleasurable experience of dining at Colombo's.
*****PLEASE CALL (323) 254-9138 FOR RESERVATIONS*****
Thank you!

We are open 7 DAYS a WEEK with FREE LIVE ENTERTAINMENT Every Night!

Colombo's has a dining area, full bar and separate banquet room

About Us:
Founders SAM AND ANN COLOMBO
Circa 1958
SAM COLOMBO, born in Michigan, and ANN PARRINO, a native Californian met and married during Hollywood's hey day or 'Golden Age' in the late 1930's. After spotting a local beer tavern for sale across from the auto dealership he was working at a sales manager in Downtown Los Angeles, Sam purchased the property with big dreams of a great place for people to eat.

Colombo's Italian Restaurant opened in 1954 as a friendly neighborhood pizza and pasta eatery. Exquisite entrees stemmed from years of Sam experimenting to perfection along with recipes passed down from generations within the Colombo family. The ever-expanding restaurant soon added delectable steaks and seafood as well a delicious entrees for vegetarian Italian food lovers. In 1984, after working night and day seven days a week for many years, the Colombo's relocated to their current location nestled in the northeast portion of L.A.; the quaint community of Eagle Rock. The area, complete with tree line streets along with active businesses and residents alike, provides that comfortable hometown feel often forgotten in the City of Angels.

To this day Colombo's Italian Restaurant is still family-owned. Sam Colombo has since passed on while Ann Colombo continues to oversee the restaurant with the help of her nephew Vic Parrino.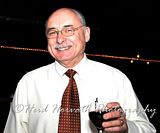 Manager Vic Parrino

One of the many unique aspects of Colombo's is their FREE nightly jazz entertainment, a certain rarity in Southern California. Colombo's invites you to come in to join the dining crowd along with fabulous LIVE ENTERTAINMENT 7 DAYS A WEEK! Monga!!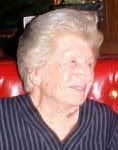 Founder Ann Colombo today

"Some things in our restaurant are more obvious than others. However, the dedication to excellence and elegance is unmistakably expressed in everything we do. In a restaurant committed to the maximum; while a good meal is simply food, a great meal is an inspiration."

~ Ann Colombo

Lunch Menu:
Served Monday thru Friday, 11am-3pm

Appetizers & Salads (Lunch)
Minestrone or Soup of the Day
Cup: $2.25
Bowl: $3.95
Warm Goat Cheese & Roast Pepper Bruschetta
$5.95
Mixed Green Salad with Sliced Olives and Tomatoes
$2.95
Caesar Salad with Parmesan Croutons and Creamy Dressing

Add four Shrimp
Small: $3.95
Regular: $5.95
$9.95
Cajun Chicken Caesar Grilled Breast of Chicken Rolled in Cajun Spice
$8.95
Spinach, Raddichio, and Goat Cheese Salad with a Green Apple Balsamic Vinaigrette
$8.95
Panzanella Salad Italian Salad made with Toasted Bread, Cucumbers, Roma Tomatoes, Red Onions, Olives, and Capers
$6.95
Antipasto Salad with Diced Provolone, Roasted Peppers, Pepperoncini, Mortadella, Olives, and Crisp Lettuce tossed with Balsamic Vinaigrette
$8.95
Sanwiches & Panini's (Lunch)
Served with Fries, Fruit, Pasta or Pasta Salad
Eggplant Parmesan Sandwich with Melted Mozzarella
$7.50
Meat Ball Sandwich, "Sam's recipe "with Marinara & Mozzarella
$7.95
Sausage Sandwich with sautéed onions and peppers topped with provolone cheese
$7.95
Chicken Panini Club, Crispy Chicken Breast Cutlet with Smoked Bacon, Provolone, Lettuce and Tomato.
$8.95

Pomodoro Panini, Fresh Mozzarella, Roma Tomatoes and Basil. Pressed to perfection.

$8.50
Roast Beef Dip, Slow Roasted Beef with Creamy Horseradish. On a Toasted French Roll.
$8.95

Colombo's Special, Mortadella, Provolone, Roasted Peppers, Pepperoni And Genovese Pesto Sauce on a Pressed Roll.

$8.95
Hamburger served with lettuce, tomatoes, pickles
Add cheese:
$7.50
$.50 per slice
Pasta (Lunch)

Capellini Pomodoro, Diced Fresh Roma Tomato, Basil, and Garlic

$8.95
Fettucini Bolognaise, Slow Simmered Meat Sauce with Cream
$10.95
Linguini Primavera, Fresh Garlic, Chili's, and Parmesan, Seasonal Vegetables, tossed with olive oil
$9.95
Spaghetti with Meat Balls, "Sams Recipe" with Marinara
$10.50
"Sam's Lasagna" Hand Rolled Pasta with Lean Beef, Sweet Sausage, Ricotta, Parmesan, and Melted Mozzarella
$10.95
Pizzas (Lunch)
Pizza di-Giorno, Choice of two toppings
$7.95
Regular Cheese Pizza
$10.50
Large Cheese Pizza
$11.50
Each Additional Topping:
Pepperoni, Tomato, Sausage, Meatball, Bell Peppers, Onions, Olives, Mushrooms, Basil, Garlic, Extra Cheese
add: $.75
Entrees (Lunch)
Served with Choice of Mashed Potatoes, Fries, or Pasta
Grilled Top Sirloin Steak with Mushrooms
$13.95
Roasted Pork Loin Chop with Onion Marmalade
$15.50
Cracked Pepper Crusted New York Steak with Red Wine Sauce
$16.95
Saut'eed Shirmp, Scampi Style with Linguini "Aglio e Olio"
$16.95
Chicken Parmesan, Breast of Chicken with Melted Mozzarella Parmigiano-Regiano, and Marinara.
Half Breast:
$13.95
$9.95
Chicken Cacciatore, Breast of Chicken with Mushrooms, Tomatoes, Peppers and Herbs.
Half Breast:
Dinner Menu:
| | |
| --- | --- |
| Appetizers | |
| Sautéed Crab Cakes with Mustard Sauce and Balsamic Syrup | $7.95 |
| Fried Calamari with Spicy Marinara | $8.95 |
| Crispy Potato Spears with Roasted Garlic-Rosemary Aglio | $4.95 |
| Baked Eggplant with Fresh Mozzarella, Marinara, & Pesto | $6.95 |
| Breaded Zucchini Strips with a Spicy Tomato Sauce | $6.95 |
| Shrimp Cocktail with Horseradish Cocktail Sauce and Bruschetta | $8.95 |
| Pizza di-Georno (Inquire with Server) | $7.95 |
| | |
Salads
Choice of Creamy Italian, Ranch, Blue Cheese, Thousand Island, and Honey Mustard Dressing
Mixed Green Salad with Roma Tomato, and sliced Olives
With Entree
$2.95
$1.00
Caesar Salad Tender Hearts of Romaine with a Creamy Caesar Dressing, Garlic Croutons, and Parmagian Cheese
Add Chicken
$5.95

$9.95
Panzanella Salad Italian Salad made with Toasted Bread, Cucumbers, Roma Tomatoes, Red Onions, Olives, and Capers
$6.95
Spinach, Raddichio, and Goat Cheese Salad With a Green Apple Balsamic Vinaigrette
$8.95
Antipasto Salad. Diced Provolone, Roasted Peppers, Pepperoni, Mortadella, Olives, and Crisp Lettuce tossed with Balsamic Vinaigrette.
$7.95
Pasta

Capellini Pomodoro. Tossed with Roma Tomatoes, Basil, & Garlic

$10.25
Fettuccini a' la Bolognaise. Slow simmered Rich Meat Sauce with touch of Cream
$14.95
Linguini Primavera. Fresh Seasonal Vegetable tossed with Olive Oil, Garlic, Parmesan, and Chili Flakes
$12.95
Baked Mostaciolli. With Pesto, Mozzarella, and Pine Nuts
$12.50
Spaghetti with MeatBalls. "Sams Recipe" with Fresh Tomato Sauce
$12.95
Sam's Special Dishes
Lasagna. "Sam's recipe" Hand Rolled Lasagna with Ground Beef, Sweet Sausage, Mushrooms, Ricotta, and Parmesan Regiano.
$14.95
Stuffed Eggplant. Breaded Eggplant Stuffed with "Sams Recipe" of Lean Beef, Italian Sausage , Ricotta Cheese and Topped with Melted Mozzarella
$14.95
Spinach & Goat Cheese Lasagna. "Sams" Hand Rolled Lasagna stuffed with a Fresh Spinach and Four Cheeses. Baked with Marinara & Mozzarella
$15.95
Pizza
Regular sized Cheese Pizza
$9.50
Large Cheese Pizza
$11.50
Each Additional Topping
Pepperoni, Italian Sausage, Meat Ball, Mushrooms, Olives, Onions, Bell Pepper, Fresh Tomato, Garlic, Basil, Extra Cheese
add: $.75
Steaks
Comes with Baked Potatoe and Saut'eed Parmesan Vegetables
Grilled Rib eye Fiorentina. Grilled Ribeye Marinated with Rosemary, Olive Oil & Garlic with Sautéed Spinach
$17.95
Cracked Pepper Crusted New York Strip with Crispy Onions, Parmesan Vegetables and Red Wine Sauce
$17.95
Pan Roasted Top Sirloin Steak with Mushroom Sauce
$15.95
Grilled Pork Loin Chop With Onions Marmalade & Balsamic Glaze
$16.50
Grilled Porterhouse Steak with Roasted Garlic & Red Wine Sauce
$22.50
Entrees
Comes with Spaghetti a'la Marinara

Sautéed Shrimp "Scampi Style" on Linguini Agli0 e Olio

$18.95
Grilled Salmon Filet with, Fennel, Tomato, Capers and Kalamata Olives
$17.50
Chicken Marsala Sautéed Chicken Breast Simmered with Onions Sliced Mushrooms & Marsala Wine
$15.50
Chicken Parmesan. Breaded Breast of Chicken backed and topped with Melted Mozzarella and Simmered in Fresh Tomato Sauce.
$15.95
Chicken Cacciatore 1/2 Chicken Braised "Hunter Style" with Mushrooms, Tomatoes, Peppers and Herbs.
$15.50
Ricotta Tortellini with Fennel, Sweet Sausage, Chicken in a
Roasted Garlic Tomato Cream Sauce
$15.95
| | |
| --- | --- |
| Side Orders | |
| Fresh Vegetables with Garlic & Parmesan | $2.00 |
| Baked Potato with Sour Cream and Chives | $2.00 |
| Sautéed Spinach with Garlic | $2.00 |
| | |
Desserts
Tira Misu
$5.00
Chocolate Raspberry Stars
$5.00
Apple Torte with Caramel Sauce
$5.00
Cheesecake with Berry Sauce
$5.00
Chocolate Fudge Cake
$5.00
Spumoni Ice Cream Cake
$5.00
Chocolate Ice Cream
$2.50
Vanilla Ice Cream
$2.50
Testimonials:
Some Celebrity Quotes About Colombo's:

"Thanx Vic for your wonderful food and hospitality."

LOL TOLHURST
Original Member of THE CURE

*****************

"Colombo's has the best Italian food in La by far!!! Yummy! Can't wait to eat there again!!!!"

GRETCHEN BONADUCE
Reality TV Star/Designer/Singer

*****************

"Thank you for you good food, and nice service!"

Pamela Manning
Celebrity Photographer

*****************

2 of our Favorite People: Gretchen Bonaduce and Denise Ames, goofing around during a magazine cover photo shoot :-)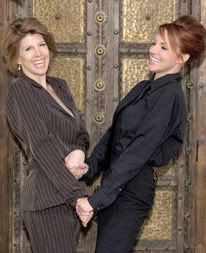 (photo by Barbra Porter)